| | |
| --- | --- |
| Posted by ST-Art-Point Sonja Tuinman on January 7, 2012 at 7:20 AM | |
NRC 3/1/2012: De Britse kunstenaar David Hockney heeft een sneer uitgedeeld aan zijn collega's die assistenten inzetten om hun werk te laten maken. Op posters bij zijn tentoonstelling bij de Royal Academy of Arts in Londen staat de tekst:  "Alle werken hier zijn gemaakt door de kunstenaar zelf, persoonlijk." Hockney zei in het tijdschrift Radio Times dat deze veeg uit de pan specifiek gericht was tegen Damien Hirst, die erom bekend staat dat hij assistenten inzet bij het vervaardigen van zijn schilderijen met grote gekleurde stippen. Hockney verklaarde dat de werkwijze van Hirst  "beledigend is voor vaklieden, getalenteerde vaklieden". De gestippelde schilderijen van Damien Hirst worden vanaf volgende week wereldwijd tentoongesteld in elf vestigingen van de Gagosian Gallery. In 2007 zei Hirst zelf over deze werken: "Zodra ik er een had verkocht, gebruikte ik het geld om mensen te betalen om ze te maken. Zij waren er beter in dan ik. Ik raak verveeld. Ik word erg ongeduldig." Op Hockney's kritiek heeft hij nog niet niet gereageerd. Hockney bespeurt een tendens onder Britse kunstenaars om assistenten in te zetten bij het vervaardigen van werk. Anderen die dat doen zijn bijvoorbeeld Antony Gormley en Mark Wallinger. Hockney: "Op de kunstacademie legde ik altijd uit dat je het handwerk kunt leren aan anderen; het is de poëzie achter het werk die je niet aan anderen kunt leren. Maar nu proberen ze de poëzie over te dragen en niet het handwerk." Hij citeerde ook een Chinees gezegde: "Om te schilderen heb je het oog, de hand en het hart nodig. Twee ervan zijn niet voldoende."
Commentaar van mijzelf: Heel grote kunstenaars, zowel schilders als beeldhouwers, laten van oudsher hun werk (deels) uitvoeren door derden, dus wat is er zo bijzonder?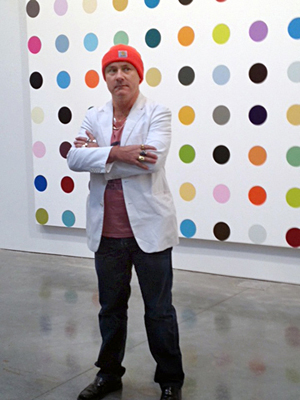 NRC 3/1/2012: The British artist David Hockney criticized his colleagues who use assistants to create their work. The posters of his show at the Royal Academy of Arts in London show the text: 'All the works here were made by the artist himself, personally.' Hockney said, in the magazine Radio Times that this sneer was specifically pointed at Damien Hirst, who is known for using assistants for the creation of his paintings with large coloured dots. Hockney declared that Hirst's way of working is "insulting for craftsmen, talented craftsmen". The dotted paintings of Damien Hirst will be shown worldwide, starting next week, at 11 locations of the Gagosian Gallery. In 2007 Hirst himself said about these works: "As soon as I had sold one, I used the money to pay people to make them. They were better at it than I was. I get bored and I become very impatient." He did not react to Hockney's criticism yet. Hockney observes a tendency amongst British artists to use assistants for the creation of their art. Others who do that are for example Antony Gormley and Mark Wallinger. Hockney: "It's a little insulting to craftsmen. I used to point out, at art school you can teach the craft; it's the poetry you can't teach. But now they try to teach the poetry and not the craft."  He also quoted a Chinese saying: "To paint you need the eye, the hand and the heart. Two of these are not sufficient."
My comment: Great artists, painters as well as sculptors, used to have their work (partly) made by others, so what's new?